"What is truth?"
Pilate asked Jesus this critical question, but unfortunately did not wait for an answer. We read that after Pilate asked, he then left the room and went back outside (John 18:38).
We wish Pilate had waited for Jesus to reply, but even so we have a good idea of what Jesus might have answered. He quite possibly would have simply reiterated what He told the disciples, "I am the way, the truth and the life. . ."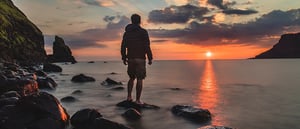 In our age of conflicting voices, we need to communicate truth to a skeptical generation that has given up the quest for truth in exchange for radical individualism and desire-driven philosophies of life. Paul predicted that the day would come when people would turn from the truth, "but having itching ears they will accumulate for themselves teachers to suit their own passions" (2 Timothy 4: 3); we can confidently say that that day has arrived.
What are the characteristics of truth that we must communicate to this generation? First, truth has universality; the best example is 2+2=4. And what is true in mathematics applies to the spiritual realm. Confused modern minds think that all religions are in some sense "true." But this is absurd, because taken together they are contradictory and even internally inconsistent. When Jesus said "No man comes to the Father but by me," He was making a universal claim—and He has the credentials to prove it. Jesus cannot simply be the truth for me and not the truth for you.
Second, truth has objectivity; that is, it exists outside of us and is not dependent on whether we believe it. If a certain star exists, its existence is not dependent on whether I believe in it. The present generation wants us to believe that "nothing is true unless I believe it;" or, to put it another way, "truth is whatever I think it to be." But logically something is not true just because I think it; nor is it determined by a majority vote.
To a lost generation we must say, "You are entitled to your own opinion, but you are not entitled to your own truth." If you have found truth, it belongs to all of us; and if Jesus is the embodiment of all truth, He is not just a Savior for the West but the Savior for the whole world.
No topic is more relevant than "Communicating Truth," for therein lies the heart of our task as teachers and leaders. Without truth, no one can be saved; believing the truth gives us the assurance of eternal life.
Pilate did not have to wait for Jesus to reply to his question. Jesus answered it elsewhere: "Sanctify them in the truth; your Word is truth" (John 17:17). Armed with truth, we can give hope to a needy world.
Dr. Lutzer spoke on "Preaching Truth While Exposing Error" at the sixth annual Shepherds 360 Church Leaders Conference in October, 2019.