Each year we are blessed to have ministry and missions organizations provide valuable information and resources to our conference attendees. We are grateful to work alongside you as we exalt God and equip church leaders.
As you consider exhibiting, here is some key information:
ATTENDANCE
At the first conference in 2014, approximately 450 pastors, ministry leaders, missionaries, and spouses were in attendance. Since then conference registrations have continued to increase. In 2021, conference registrations exceeded 800, with 200+ of those being first-time attenders.
LIMITED EXHIBITOR SPACE - SOLD OUT EARLY EVERY YEAR
Exhibitor registration is on a first-come, first-served basis. While we try to accommodate every ministry interested in exhibiting, we must meet our deadlines with outside vendors. Therefore, please note the registration and advertising deadlines listed below.
SCHEDULE* AND EXHIBITOR COMMITMENT
Conference Kick-off: 12:30 PM Monday, October 17, 2022
Conference Adjourns: 12:30 PM Wednesday, October 19, 2022
*Please see the Conference Schedule page for details.
Exhibitors commit to remain on campus until the conference adjourns.
BOOTH PRICING
Exhibitor Area A: $750

Exhibitor Area B: $500
Note: This year's conference bookstore will be greatly expanded, and exclusive space is devoted to the conference bookstore. Registered exhibitors who wish to sell resources may do so from their booth in Exhibitor Area A or B.
Registration for approved* exhibitors can be found here. (Approved exhibitors will be provided with an access code to register.)
*If you have not exhibited with us before, please complete the New Exhibitor Application found here.
Refunds: Please note that exhibitor registration is non-refundable and non-transferable.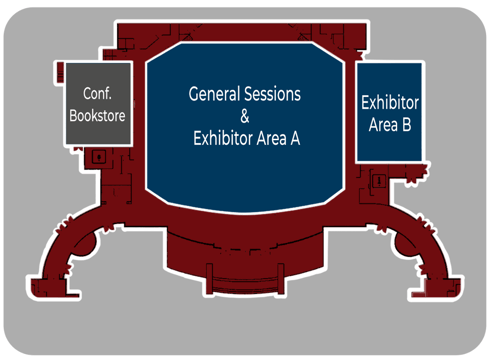 EXHIBITOR REGISTRATION - WHAT IS INCLUDED
Conference registration for one (1) representative*

Display booth (8 ft x 8 ft)

Table (one 6 ft table)

Black table cover (you may bring your own cover with your organization's logo/name)

Chair

Access to free WiFi

Access to electrical
*If you are bringing additional representatives, please register them separately here.
CONFERENCE BOOK ADVERTISING
Exhibitors may purchase advertising in the conference book.
$100 for a half-page (4 1/2" tall by 6 1/2" wide) full color ad

Ad copy (300 dpi, press quality PDF; no bleeds or crop marks) must be submitted no later than August 5, 2022, to Karen Shinn (kshinn@shepherds.org).
Reminders to submit your ad will not be sent - it is the exhibitor's responsibility to submit the ad by the due date. Copy received after the deadline is not guaranteed to appear in the conference book.
DEADLINE FOR REGISTRATION
Exhibit space will be available on a first-come, first-served basis until all spaces are sold out or until July 31, 2022, whichever comes first.
INSTRUCTIONS FOR SETUP TIME AND CHECK-IN
An email will be sent to all registered exhibitors at least 3 weeks before the conference with details on setup time, booth location, where to check-in, how and where to ship booth materials in advance, etc.
Should you have any additional questions, please reach out to Karen Shinn kshinn@shepherds.org.