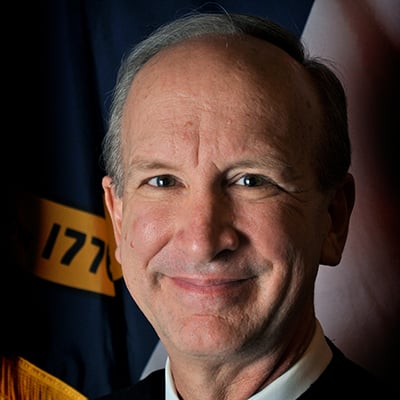 PAUL NEWBY
Paul Martin Newby is the 30th Chief Justice of the Supreme Court of North Carolina. Chief Justice Newby first was elected to the Supreme Court as associate justice in 2004 and was elevated to the highest judicial office in North Carolina in the 2020 election.
In addition to his service on the Court, Chief Justice Newby is an adjunct professor at Campbell University School of Law. He is the co-author of The North Carolina State Constitution with History and Commentary (2nd ed. 2013) with Professor John V. Orth of the University of North Carolina School of Law. He was honored by the North Carolina Bar Association with its Citizen Lawyer Award in 2011, and in 2012 he received its John McNeill Smith Jr. Award for his work in constitutional rights and responsibilities. In 2013, Chief Justice Newby was named a Leader in the Law by North Carolina Lawyers Weekly. In recognition of his professional service, Chief Justice Newby received the James Iredell Award and an Honorary Doctor of Laws from Southern Wesleyan University.
He began practicing law in Asheville with the Van Winkle Law Firm and later served as vice president and general counsel of Cannon Mills Realty and Development Corporation in Kannapolis. In 1985, Chief Justice Newby was appointed as an assistant United States attorney for the Eastern District of North Carolina in Raleigh where he served for over 19 years. During this time, he played an integral role in conducting the undercover sting operation that recovered North Carolina's original copy of the Bill of Rights, stolen in the aftermath of the Civil War.
Chief Justice Newby is an Eagle Scout and is the recipient of the Heroism Award. In 2012, he was designated a Distinguished Eagle Scout, a national honor that recognizes both his service to the Boy Scouts and his dedication to public service.
Chief Justice Newby has been married to Macon Tucker Newby since 1983, and they have four children. He and his wife attend Christ Baptist Church in Raleigh.