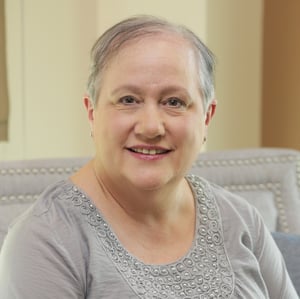 Elaine Harbin
Elaine (Branine) Harbin was born in Rockford, IL, and grew up in a pastor's home. She came to faith in Jesus Christ as a young girl and has been a lifelong participant in local church ministry using her music, teaching, and leadership gifts in many different areas of service.
She is a graduate of Tennessee Temple University (1980), where she majored in music with a proficiency in voice. For four decades, she has been a music educator in private Christian schools, most recently leading the music and fine arts program for Calvary Baptist Schools and serving on the Music & Media team for Calvary Baptist Church of Lansdale, PA. Married to a man who has served as a pastor and interim pastor, college and seminary professor, and seminary president, Elaine has cheerfully used her gifts in supporting roles alongside her husband. She has enjoyed an active speaking ministry at ladies events, camps and conferences.
In 2016, Elaine embarked on a new journey with a breast cancer diagnosis, chemotherapy and radical surgery. She and her husband both give glory to the Lord for His faithfulness to walk with them through this valley. Throughout this journey, Elaine has found many opportunities both formally and informally to share her faith in Jesus Christ with others facing difficult life circumstances.
Elaine and Sam reside in Manheim, PA. They have three grown sons and three grandchildren (#4 expected in November). Elaine keeps busy these days substitute teaching in area Christian schools, enjoying adventures with the grandkids, ministering alongside Sam supporting churches in pastoral transition, and caring for her 95-year-old mother.